MoneyMattersTM Educational Webinars
Tax Savings Strategies - November 30th
12:00 - 1:00 PM (ET)
Tax Savings Strategies - November 30th
4:00 - 5:00 PM (ET)
Protecting Your Identity - TBD


MoneyMattersTM Topics:
Social Security
Estate Planning
Protecting Your Identity
Healthcare in Retirement
Planning for College
Life and Long-Term Care Insurance
Pension Lump Sum Decision
---
Featured Speaker: David Kudla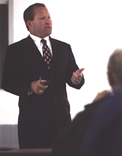 David Kudla, CEO and Chief Investment Strategist of Mainstay Capital Management, has been ranked by Barron's as one of the "Top 100 Independent Financial Advisors" in the country for the past eight years, and in the top 25 for the past three years. Mainstay is also recognized by Investment News as a "Top 30 Financial Planning Firm" nationwide. He has earned two postgraduate degrees, including a Masters Degree in Management at Stanford University. David holds a Certificate in Financial Planning and is an Accredited Asset Management SpecialistSM (AAMS®), a Chartered Retirement Planning CounselorSM (CRPC®), and a Chartered Mutual Fund CounselorSM (CMFC®). David is a Dow Jones MarketWatch columnist and a contributing writer for Forbes. He regularly speaks at national conferences, conducts educational seminars, and advises thousands of retirement savings plan participants. His insights into investing, 401(k) plans, the financial markets, and the automotive industry have often been sought out by prominent media sources worldwide such as The Wall Street Journal, Barron's, Forbes, USA TODAY, Detroit News & Free Press, Reuters, CNN, Bloomberg, FOX Business, NBR, and CNBC. He holds three U.S. patents and has a patent pending for Mainstay Capital Management's proprietary Waypoint Retirement Planning SystemTM. As part of his philanthropic activities, David is founder and Executive Director of ENGAGE® - International Investment Education Symposium, the largest annual student investment conference in the world. He is an Adjunct Professor, serves on several university advisory councils, and is the sponsor of the largest student run portfolio at Stanford University. He is a member of TD Ameritrade's NextGen Advisory Board and serves on Guggenheim Investment's RIA Advisory Board.
---
Schedule a Seminar at your location

Schedule a Webinar at your location
To complement our on-site seminars, we also conduct online interactive seminars or "Webinars". This service allows us to conduct live, interactive seminars anywhere at anytime. These Webinars are free of charge and include a "live" question and answer session.
---
Kiplinger's Personal Finance
Is Your Pension Still Safe?
Wall Street Journal
Arguing Over Advice
Wall Street Journal
A Financial Adviser Bucks Star Power
Kiplinger's Retirement Planning
Create a pension backup plan
Wall Street Journal
How to Value the Buyout Offer
Oakland Press
Mistake could pay off for workers
ABC News Video
"Automotive workers seek advice on buyouts"